What To Look For In Messenger Bags?
Messenger bags have trendy urban image, making them popular among young people of both sexes. Messengers though not only look great, they are also very practical, i.e. make it easier to carry heavy items and to access them.
Messenger bag is great choice for those looking for something trendy and practical.
What Is Messenger Bag?
The name messenger bag comes from the original purpose of this bag design, i.e. to make it easier for messengers to carry heavy bags.
The classic image of a postman with his postbag is a good example. You can still see postal workers and bicycle couriers use messengers in their daily work.
Messenger bag is worn over the shoulder with a strap. You can carry your messenger bag on one shoulder or over the chest. You can then let the bag rest on the lower back, i.e. making it more comfortable to carry it when heavy.
This also makes it easy to access the messenger bag. You can simply shift the bag to your hip or front, and then shift it back to rest on your lower back, i.e. you do not have to take the bag off, as you would have to if carrying backpack.
The Typical Messenger Bag User
Messenger bags have a young and trendy image so no wonder they are popular by young city dwellers of both sexes. The practicality is though what makes them as popular as they are.
Messengers are great for those travelling by bike, whether they are professional messengers / couriers, leisure cyclists, students or people commuting to and from work. Laptop messenger bag is great for students and young professionals, whether they travel by foot or bike.
Simply put, there is no typical messenger bag user. Anyone carrying heavy items on regular basis will benefit from using messenger bag.
The Different Types Of Messenger Bags
Messengers come in various shapes and sizes, making it easy for anyone to find a bag for his or her liking.
They come in different material, e.g. canvas messenger bag, leather messenger bag. They can serve different purpose, like laptop messenger bag, school messenger, camera messenger bag, etc. Moreover, they come in all price ranges, from cheap and cheerful to expensive designer bags.
What To Have In Mind When Buying Messenger Bag
The purpose of the bag is the first thing to have in mind when buying messenger bag, e.g. are you looking for stylish accessory or laptop messenger bag for everyday use. The design is likely to be more important in the former case, but the practicality in the latter.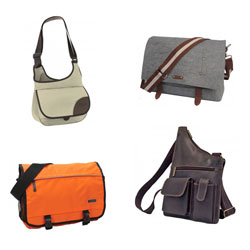 Heavily used messenger bag should be made of durable weather resistant material. Leather messenger bag is durable as well as stylish. Though modern fabric and technology means you can get as durable canvas messenger bag, as well more design options.
Messenger bag should be comfortable to carry, not least if you are travelling with heavy items on regular basis. So check the straps carefully. Most people find wider shoulder straps more comfortable then narrow straps, while padded straps tend to be best. You should also be able to adjust the straps for best fit.
The internal organization may also be important to you, e.g. if you are using your messenger bag professionally, like when commuting to and from work or school. Specialized messengers also take the specialized needs in to consideration, e.g. camera messenger bag will have fully lined interior and separate compartments / areas for lenses and other camera accessories.