The Different Types of Laptop Bags Available
There are various types of laptop bags available. There are traditional business style laptop cases as well as high quality laptop briefcases. There are casual laptop backpacks, as well as trendy laptop messenger bags for both sexes. There are stylish handbags and totes where you can fit in a small laptop or tablet, as well as colorful and funky laptop covers and sleeves.
Furthermore, you can choose between wheeling you laptop case or carry it by hand, shoulder or on your back. And you can spend as much or little as you like.
This article explores the different types of laptop bags in order to help you to find the best laptop case for you and your needs.
Business Style Laptop Cases And Briefcases
For many the classic laptop case is a bulky black (or brown) leather bag for business travelers.
They still exist but there are so much more on offer for business people now a day. From slim laptop briefcases to wheeled laptop cases that work as mini office away from home.
You can choose between different styles and colors. There are bulky laptop bags versus slim and streamlined bags. There are wheeled laptop cases versus non-wheeled quality options. There are business style laptop cases that appeal to either sex or to both sexes.
Black and brown may still be the most common colors but there are also some tactful colorful options available too.
Laptop Messenger Bags And Backpacks
For some backpacks and messenger bags have youthful and casual image. This has however changed in recent years. The variety of laptop backpacks and messenger bags is so varied now that everyone can find one suitable for their needs and style.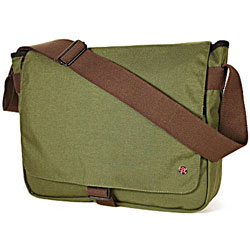 Laptop messenger bags and backpacks appeal to people of all ages and sexes now a day. There are casual laptop backpacks that are popular among students, as well as quality leather ones that are suitable for any modern businessperson on the go. There are trendy laptop messenger bags suitable for any respectable fashionista, as well as practical laptop backpacks ideal for leisure travelers.
You can get laptop messenger bags and backpacks in various sizes and different colors and styles. You can even get rolling laptop backpack, i.e. with the option of wheeling it or carrying it on the back.
Handbags And Laptop Totes
There are many types of laptop bags for women available now a day. No matter what your style is, all women can find laptop bag to fit their image and personality.
Many women like to be able to fit a small laptop or tablet in their handbag or tote. There are casual laptop totes for everyday use, to more formal handbags for special occasions. While businesswomen can easily find handbags that are cleverly organized laptop briefcases as well as stylish accessory.
The price also varies greatly. You can get cheap and cheerful laptop totes as well as exclusive designer laptop bags especially aimed towards women.
Laptop Sleeves And Covers
Laptop covers and sleeves fit snuggly around the laptop and protect it from damage when carrying it around. You should always use laptop sleeve when placing your laptop in a larger bag, like your suitcase or backpack.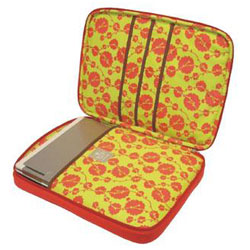 Laptop covers do not replace other types of laptop bags, though it can offer sufficient protection in some cases, e.g. if travelling by car and holding the laptop sleeve the whole time. However, for the ultimate protection when out and about you need proper laptop bag as well as laptop sleeve.
Laptop sleeves are relatively cheap so many people like to own more than one cover, i.e. for different occasions. They may own formal laptop sleeve for business trips but something fun and stylish for personal use.